Now Receive 10% off any January rental by using Coupon Code "10OFF"! This deal lasts until January 31st!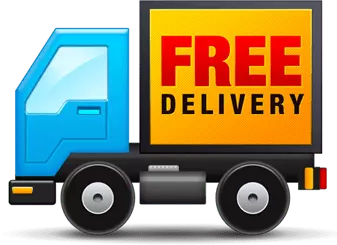 Free Delivery for Rentals within 20 Miles!
Outdoor Party Inflatables now offers Free Delivery for Inflatable Rentals within 20 Miles from our Warehouse! This 20-mile radius includes most of Enterprise, Dothan, Ozark, Daleville, Newton, Headland, and many surrounding cities!
Order-by-Date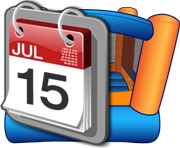 Wet & Dry Bounce House Combos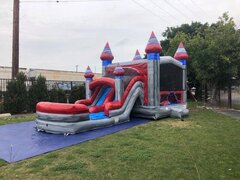 Bounce House--Jumpers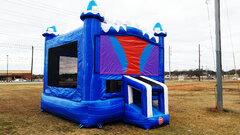 Water Slides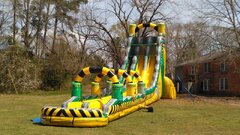 Obstacle Courses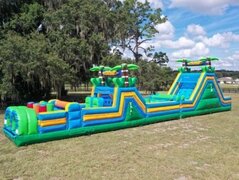 Concessions & Equipment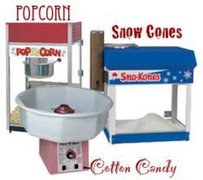 Tents, Tables & Chairs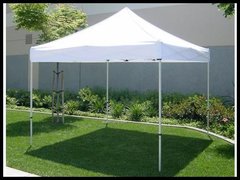 Entire Inventory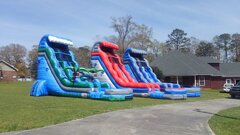 Dry Slides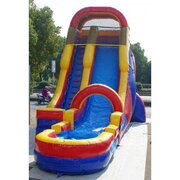 At Outdoor Party Inflatables, we pride ourselves in making sure that your family has a safe, fun, and affordable experience with us! We will do our best to provide you with the experience you deserve!

We also have a wide range and variety of Inflatable rentals to choose from! We have water slides, bounce houses, jumpers, jump and slide inflatables, obstacle courses, and bounce house combos.

Our water slides range from our affordable 18' Purple Crush Water Slide to our gigantic 30' Toxic Extreme Water Slide. We have many dual-lane water slides that allow riders to race down the slide and into the pool! We also have large water slide rentals without slip n slides that are perfect for smaller backyard birthday parties and barbeques.

Our high quality, affordable bounce house jumpers, such as our Frozen Bounce House and our Classic Bounce House, are perfect rentals for younger kids and are a great addition to your party! We also have jump and slide inflatable combos, like our Rainbow Combo and our Pink Castle Combo, which can be used wet or dry and allows kids to jump, climb, and slide all day!

Our obstacle courses are great ways for kids to compete and have fun. Our obstacle courses, including our 70' Jungle Trek Obstacle Course, are perfect rentals for your parties and team celebrations! We have the
Looking for the best inflatable rentals? Here they are! We have numerous experiences for your family and guests to enjoy and play all day! We have inflatables, including Water Slides, Bounce Houses, Obstacle Courses, and Jump and Slide Combos! We have everything you need to make your rental experience unforgettable!

Browse our entire inventory here and click on the Inflatable Name or Picture to view additional information and add the rental to your cart! We have dozens of bounce houses and jump and slide combos as well as numerous dual-lane water slides and single-lane slides!

To reserve your inflatables, you must select your party date, choose your party time. Next, you can see our inventory and the price of each rental that will be sure to make any occasion a blast and surely one you'll remember! Make the best choice when planning your party or event and let Outdoor Party Inflatables bring fun to your party!

Serving all of Southeast Alabama, Outdoor Party Inflatables is Dothan's #1 choice for water slide rentals! Our extensive rental inventory also includes the most Dual-Lane Water Slides and the broadest selection of inflatables for all ages; Bounce Houses, Jump and Slide Combos, Dry Slides, Water Slides, Obstacle Courses, and much more.

We can help you plan your party or event and will provide the highest customer service and customer satisfaction!
We have many Water Slide Rentals that we constantly rent out each weekend, especially in the spring and summer months! We have several large dual-lane water slides that allow kids to race down into a deep pool and finish with a splash! We also have many water slides that are single-lane that are more affordable and just as fun! Our Water Slides are cleaned thoroughly after each rental to ensure your family and guests have a pleasant experience with our equipment!
We have many Inflatables available for rent in Dothan, AL and include Huge Water Slides, Bounce Houses, Bounce House Combos, and Obstacle Courses.
We most frequently visit Enterprise, AL and always bring Water Slides along with us to give people the best time! Our most popular water slide is our 27' Tiki Island Water Slide! It is a dual-lane and deep pool water slide that is 27 feet tall and 70 feet long! It features a slip and slide which increases the length of the slide and gives kids and adults a longer ride with more fun!
What do you offer?
At Outdoor Party Inflatables, we have inflatable rentals including Bounce Houses, Obstacle Courses, and Water Slides. Our bounce houses include combos that can be used wet or dry and have single-lane or dual-lane slides! Our obstacle courses can be used dry and are perfect for kids to play and compete! We have many water slides including those with slip and slides, as well as dual-lane slip and slides! In addition, Outdoor Party Inflatables delivers and sets up at no extra charge!
What are our prices?
Our prices range from $100 to $650 depending on which inflatable you reserve! Our large water slides are the most costly, followed by our obstacle courses and bounce houses.
Are you ready for the best party that you have ever had?
If so, book here with Outdoor Party Inflatables! We do everything from Birthday Parties, Surprises, Church Gatherings, Family Reunions, Backyard Barbeques, Team Celebrations, and a Weekend of Fun!
Areas We Service
We service many areas including
Dothan
,
Ozark
,
Troy
,
Daleville
,
Enteprise
,
Rehobeth
,
Headland
,
Newton
,
Pinckard
,
Midland City
,
Ariton
,
Clio
,
Level Plains
,
Elba
,
Jack
,
Slocomb
,
Cottonwood
,
Fort Rucker
,
Newville
,
Wicksburg
,
Taylor
,
Hartford
,
Kinsey
,
Ashford
,
Echo
,
New Brockton
,
Chancellor
,
Brundidge
,
Banks
, and all surrounding areas!